3 reasons people struggle to measure the value of Employee Advocacy in social media
People tend to struggle with measuring the value of Employee Advocacy in social media for three reasons:
• First, there is the data. Tons of it. So much data that we call it big data. Social data aggregators and monitoring tools give us filters to remove much of the data that is irrelevant to a particular need, but even those tools often produce far more information than a person can digest.
• Second, there are the tools. Even after all the acquisitions that occurred during 2011–2012, there are still hundreds of social media measurement tools on the market. None of them will address all of any organization's needs. In fact, many companies hire consultants to help choose the right bundle of measurement products, usually from multiple vendors.
• Third, people don't know what to measure. Social media are still very new to most people. In addition, the media and our ability to measure them are still rapidly evolving. And many people simply measure whatever metrics the social networks publicly display, such as Fans or Followers.
So how to begin measuring the effectiveness of your brand and employee advocacy program?
You need a framework
At the most basic level, social media are all about relationships. Unfortunately, most measurement tools or approaches focus on interactions or transactions. Some tools focus on conversations, but that is still not the same as relationships. For example, Facebook "Likes" are not relationships. Brands that define their goals based on a targeted number of Likes are not focusing on relationships because that kind of goal focuses on one specific interaction or transaction. Such goals do not guide an organization to nurture valuable and lasting relationships with customers.
In general, the most successful employee advocacy programs provide fact-based, quantified performance feedback that encourages desired behaviors. The only way to do that is to establish a consistent measurement framework with clear metrics that everyone understands.
I see lot's of attempts to pull together glitzy reports with loads of data but little insight or quantifiable attribution on how employees are actually contributing to business outcomes and demonstrating that their efforts are helping the brand gain share of wallet or increase it's favorable position in the marketplace. If you're stuck with this challenge, I recommend you begin by establishing a clear and consistent Measurement framework, with supporting key performance indicators (KPI's) aligned to business or program goals.
Here's a basic construct we've been evolving over years. It can be applied to B2B and B2C industries. You'll need to evaluate performance in 3 key areas:
• Program readiness: Continually appraise and assess the degree to which your internal capabilities are prepared to pursue and achieve the goals you set for your program or your team.
• Employee performance: Measure the performance of your employees* in social media.  For all of those groups, measuring their performance is not the same as measuring their activity. Therefore, your measurement efforts should focus on outcomes that your employees achieve with their target audiences, not the amount of work each employee does or how much content they produce.
• Business outcomes: All of this effort should be guided by your business priorities: the outcomes that matter for your organization. Maybe you want to find new customers. Maybe you want to hire the best people. Maybe you want to increase satisfaction among your existing customers. As you design your Employee Advocacy program, be sure to specify the business outcomes you seek to support and then define a plan to measure the extent to which you actually help achieve those outcomes.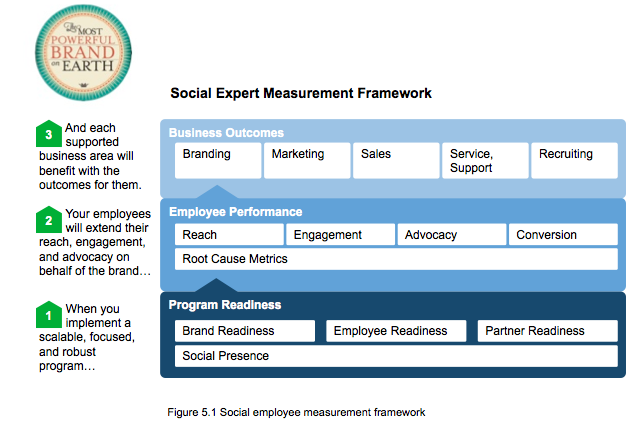 Define a plan for measurement that includes the specific brand goals the program is intended to support, the tactics you will use, and the metrics you will track to evaluate success. Before you set out to measure and report performance on any one of these, you'll need to set specific goal attainment targets from an established benchmark data, such as:
• Increase community engagement by your internal experts by 5 percent monthly from current baseline xNumber.
• Increase the online share of voice created by external influencers by 17 percent, versus your current baseline xNumber, by the end of the fiscal quarter.
• Increase employee connectivity to influencers and their extended network by 10 percent, from the current baseline xNumber, within the next 6 months.
The framework should ultimately allow you to measure and quantify to outcomes any effort (program, campaign or tactic) delivers. For example, financial impact but can be measured in terms of cost savings, quality improvement or increased revenue attainment.
See more details on these concepts and frameworks in The Most Powerful Brand on Earth – Chapter 5: You'll measure new things in new ways
Also, I found these related posts on measurement by Ted Shelton and  Augie Ray to be insightful.
*The term "employees" can include employees, partners, and affiliates.