Social Business Transformation
We're on the cusp of a major shift in business transformation; the interest in companies wanting to adopt social business is on the rise. As businesses seek ways to best leverage social computing it's imperative to consider traditional business model norms that will prevent progress for your brand.
IBM sees social business and the move to enable the mobile workforce as a key driver of business transformation, helping all aspects of an organization from marketing, human resources, sales and customer support and development,  leverage the power of social concepts in their business processes.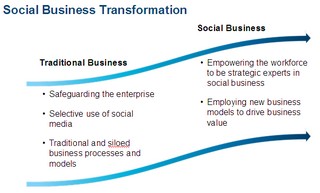 IBM's social business strategy seeks to focus our interactions on concrete outcomes: enhancing our brands social presence, projecting employee expertise, driving innovation, and delivering business value.
Using agile methods, we're learning to build informed engagement models based on robust social intelligence. Starting with key subject matter experts who have proven to be early adopters of social media and social technology, we're devising repeatable methodologies to enable the workforce and exploring how to evolve them at scale. IBMers are empowered to collaborate and share their deep technical knowledge, passion for IBM products/solutions with each other, customers and prospects seeking their knowledge. Our employee enablement programs provide guidance on social computing policies, governance, education and training. Here are some examples:
Social Computing Curriculum:
– Certification-based training
– On-demand courses:  Fundamentals, Relationship building, Digital Citizenship
Social Enablement:
– Practical guidance and exercises to help employees define social profiles
– Set up social channels & develop social presence
Expertise Location System:
– Web application for finding IBM experts by skill or expertise
– Employees define their areas of expertise and choose types of activities they will perform
Ultimately, employees are becoming stewards of social computing best practices and effective brand ambassadors.  I'll be sharing more about IBM Social Business transformation at WOMMA School of WOM on Monday, May 9th in Chicago along with Bill Chamberlin, Principal Research Analyst, Corporate Marketing & Communications, IBM  and  Chris Boudreaux, SVP of Management Consulting, Converseon.  We hope to meet you there.
You may also find IBM's Social Business Jam results interesting.