Social Media Engagement forces HR to update job roles and skill requirements
The Human Resources department, in most organizations, is getting a dose of reality as they come to terms with employees having their own personal brand — forcing them to rethink job role definitions and skill requirements.
Long gone are the days that social media responsibility is limited to the social media team that administers branded channels or looks after social customer care. While these teams are still essential and have their critical role to play, employees are increasingly driving engagement with customers, partners and communities through social networking, requiring them to have the skills to engage in real-time conversations, online, and often in public view. But most are not professional communicators. So they will need new skills, and you will need to help them develop those skills while taking into account considerations based on various workforce management areas, as described in Figure 2.1. below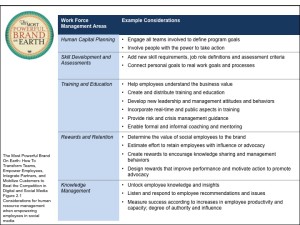 Scaling this kind of skills development program will require that you embed social media skills into the employee development and evaluation processes across the organization. Eventually, you will need to add social networking skills to your organizational skills taxonomy; in most organizations, this helps to define role standards throughout the organization.
Some employees' job responsibilities will change, and the Human Resources organization will need to update job role definitions and skill requirements. These new skills will dictate employee performance evaluation criteria that may be new to the brand. You might find it helpful to define different skill levels at different career levels, and thereafter, skill development plans and assessments should change to support the new job role definitions, requirements, and career advancement.
During training and education, begin by helping your people to understand the business value that can be created when employees and partners build trust and advocacy online. To help them truly understand how the realtime and public aspects of social media engagement work, provide real-life examples that illustrate the types of behaviors you want them to demonstrate.
In particular, tell employees what they should do in social media, instead of what they should not do. Demonstrate this "what to do" approach across various roles in your organization, such as sales, marketing, and product specialists. Describe the benefits that the brand expects to achieve in terms of quantifiable business outcomes. Doing so will make the training more meaningful to employees.
Given the quickly evolving nature of social and digital media, you will need the ability to quickly create and distribute training or education to your people—especially as new channels, best practices, or policies emerge or fade.  This approach could easily be used to train employees who are active in social media and also to keep them continually equipped with the latest information about your brand.