The Smart Sceptic's Guide to Social Media in Organisations
Colleagues, family and friends know I love to mentor, teach and guide, especially aspiring women leaders. Said another way, I love to encourage others to find and spark their "inner expert". Helping them share their knowledge and thought leadership. I did this professionally for so many at IBM through the employee advocacy program I created called the IBM Select Social Eminence program, affording me the amazing opportunity to work with social business leaders across the globe. Also, I was lucky enough to have been inspired by Gini Rometty, CEO IBM. An amazing leader and the very first female CEO of the 100+ year old company, where I spent 18 of years of my career. Ginni taught me that ….
"In a social enterprise, your value is established not by how much knowledge you amass, but by how much knowledge you impart on others" ~ Ginni Rometty, CEO IBM 
You can read more about this in this post about the 10 Benefits of Social Business Collaboration
I was fortunate to have the opportunity to become a protege to Yekemi Otaru several years back when she graciously reached out to me while researching and writing her masters thesis. Interested in tapping my expertise leading social business initiatives for IBM, a global enterprise with over 430,000 employees. The title of her thesis: Employee participation – the influence of enterprise learning during evolutionary change: a mixed method study into social media implementation (Distinction, 80%).
Right in my wheel house!
I'm proud to say that Yekemi has completed her Master of Business Administration (MBA, Distinction) Henley Business School and earned a distinction in Change management, Marketing in high tech industry.
Well it doesn't stop there! Yekemi, like me is always reaching higher. This month she did just that by becoming a published Author! The title of her first book is: The Smart Sceptic's Guide to Social Media in Organisations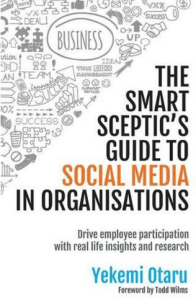 If you are considering employee advocacy for your organisation but you are not sure how to sustain the participation of your employees on social media, Yekemi's book offers a three-step framework developed through research and real life examples.
Yekemi's book is an interesting compliment to my book called The Most Powerful Brand on Earth. Both works help business leaders navigate with proven methods how to equip a social workforce. Further, customers trust expert social employees more than any other source.
While, Yekemi and I have never met in person (that would be a luxury I hope will happen some day!), we've collaborated by phone and across various social networks (LinkedIn, Twitter mainly) and across the Atlantic Ocean. Yes, This is the future of work!
Like me, Yekemi is a working Mother and business leader. She lives in Aberdeenshire, Scotland where she and her husband are raising their two beautiful children and striving for balance daily to make it all work in pursuit of her passions. She has worked in engineering and marketing roles at multinational companies such as Schlumberger and General Electric. Now an experienced strategy and marketing professional, Yekemi brings her unique reasoning and writing to tackle the challenge of social media, branding and the digital space in more conservative sectors such as oil and gas, medical, pharmaceuticals and manufacturing.
Connect with Yekemi – she blogs at thetaskmistress.me  follow her on Twitter @Mrstaskmistress  and buy a copy of her book on Amazon UK